//Exploring the SAF: Behavioural Science
In this new series, we speak to Imperial scientists working in specific areas of our Scientific Assessment Framework, or SAF. Watch the video below or read on for a QA with Layla Malt,

Senior

Behavioural Sciences & Surveillance Manager

.
Please introduce yourself. What's your name and your current role at Imperial Brands?
Hi, my name is Layla Malt and I'm the Senior Behavioural Sciences & Surveillance Manager. I've been at Imperial, in various roles, for almost 6 years.
Can you tell us a little bit more about your scientific background?
My background is in Biological Sciences, and I have a PhD in Biochemistry. I realised pretty early on that I wanted to use my PhD in a corporate or commercial environment. I began my career at Imperial as a regulatory reporting scientist, monitoring and analysing developments in relevant scientific and medical literature. Recently, I've taken on responsibility for leading the Behavioural Science workstream.
How would you explain our Scientific Assessment Framework (SAF) to the layperson?
The SAF is important for multiple reasons. It allows us to understand our Next Generation Product (NGP) risk profiles and helps us substantiate their tobacco harm reduction (THR) potential, relative to cigarette smoking. THR is a compelling concept, but there isn't global buy-in yet. The SAF provides us with a multidisciplinary approach to create robust evidence packages to support our NGP submissions and engagement.
Why are behavioural studies an important part of the SAF?
Our behavioural studies are a critical component of the SAF as they provide us with the first opportunity to scientifically observe how our products are being discussed and used by consumers in the 'real' world. This allows us to understand – and demonstrate – how our NGP can potentially make a meaningful contribution to THR.
Behavioural studies can be quite wide-ranging; can you give us a flavour of some of the different types?
The three main types we currently focus on within the SAF are label comprehension, perception and intention studies, and actual use studies.
With label comprehension and perception and intention studies we're looking to investigate if people understand our products. Specifically, that while they're not risk-free, they are potentially reduced risk in comparison to continued smoking of combustible cigarettes. We're also looking at hypothetical product usage, would our subjects use them? If so, how, why and in what scenarios?
Obviously, these situations are hypothetical, so while findings can be informative, they're not able to provide useful data on how our NGP may be used in real-life scenarios.
This is where actual use studies come in, as we observe how adult smokers use our products over a period of several weeks while they go about their daily lives. We then check back in with them to understand how our NGP were used; if they are still being used and if they have supported subjects in helping reduce their smoking – or maybe even helping them to switch completely from cigarettes.
Why is it important to understand how people perceive and intend to use our NGP? 
These studies are the first step in helping us analyse adult consumers' perception of our products and if, how and why they might use them. For example, to potentially reduce the health risks associated with smoking.
Conversely, they're also important in making us aware whether our products are unintendedly appealing to those who shouldn't use them. After all, the impact of our NGP on THR will be diminished if they lead to any 'on-ramping' of unintended populations, including youth and never smokers, to nicotine products.
What are some of the common reasons given for using NGP, and what are we looking for?
Common reasons for using NGP include subjects wanting to reduce the number of cigarettes they smoke, or to replace smoking entirely. They also report wanting to switch to something that is potentially reduced risk compared to continued smoking.
What we're ideally looking for includes a good understanding of our product and their relative risk compared to cigarettes, plus an understanding that these products aren't risk free. We're also looking for evidence that our NGP are appealing, acceptable and satisfying to our intended consumers (adult smokers and former adult smokers who are now using NGP).
We hope to find evidence our NGP can support adult smokers to reduce or replace their cigarette usage and make a meaningful contribution to THR.
Why do we use non-smokers as well as adult smokers and NGP users in (some of) our behavioural studies?  
To be clear, we don't use non-users in our actual use studies. We would only use adult unintended populations in our perceptions and intensions  to use studies, because we must be able to understand any unintended appeal of our products. The other side of that equation is understanding whether adult smokers find our NGP appealing and satisfying – which we investigate though conducting actual use studies.
We're running an actual use study in-market this year, aren't we?
Yes. It's taking place in the Czech Republic where we're providing our heated tobacco system Pulze & iD to adult smoker consumers with no intention to quit for six weeks and observing them throughout that time to understand how they use the system. We're then planning to check back in after around six months to see if and how they've used the system to help reduce or replace their smoking.
These types of studies allow us to observe how adult smokers use our products. They're the closest thing we can get to 'real world' evidence to help build upon the cumulative evidence base the SAF provides to demonstrate the THR potential of our NGP.
What are the most interesting or exciting elements about your team's role in the business?
In my opinion, the most interesting part of my role is our direct link to consumers. Human behaviour is incredibly complex and real life is complicated and multifaceted, so it's exciting to be leading studies which allow us to really understand how our products fit into these aspects and how they can help adult smokers – particularly those who are uninterested or unwilling to quit smoking – transition to potentially reduced risk NGP.
What are the biggest challenges in your role?
The project management and logistical challenges of some of these types of studies springs to mind. Actual use studies, for example, are complex to run, requiring a significant volume of work and collaboration way before any of our participants walk into any site.
They also require an amazing amount of organisation and coordination with all our key stakeholders both internally and externally, on top of practical things like the logistics of getting products to the right place at the right time.
To make it even more challenging, this is usually done in another country to which the team is based so is being managed remotely! So, ensuring everything is in the right place at the right time and ready to go is one of the biggest challenges we face – but it's also very exciting.
More broadly, I recognise we work in a controversial industry and  as a manufacturer our voice perhaps isn't as tangible as, for instance, a public health body. However, responsible manufacturers like Imperial can help provide the science that can be used by those groups to improve consumer understanding of NGP and THR.
I don't believe every consumer currently has the full facts at their fingertips, so we really need to get this potentially reduced risk messaging to public health bodies so they can cascade to General Practitioners  and other health professionals – voices truly trusted by consumers.
How important do you think peer-review is to our NGP research?
I'm proud of the way IMB Science's research is thorough, credible, robust and peer-reviewed. It's a crucial part of being able to communicate messages around tobacco harm reduction. THR should be evidence based, and that evidence comes from scientific substantiation.
I believe the manner in which our scientific research is conducted and reviewed means that it's gone through a robust process, and everybody – from regulators to consumers – should be able to trust in the ensuing findings and results.
What's the culture like within Imperial's Science function?
I think there's a real, tangible feel for our mission around THR. We've really have it woven into our DNA that we're involved in working on something important and we're collaborating to reach the same goal.
I think working in a controversial industry can bring its own challenges, but I'm proud of the way Imperial's science function and the wider business acts with integrity and appreciates the importance of duty of care and understanding our NGP.
Do you believe in tobacco harm reduction?
Absolutely! I believe that adult smokers should have an informed choice around the products they use. I also believe that they should have access to a wide range of potentially reduced risk products and a portfolio of those products, while also appreciating that not every smoker is the same and every journey away from combustible cigarettes is likely unique.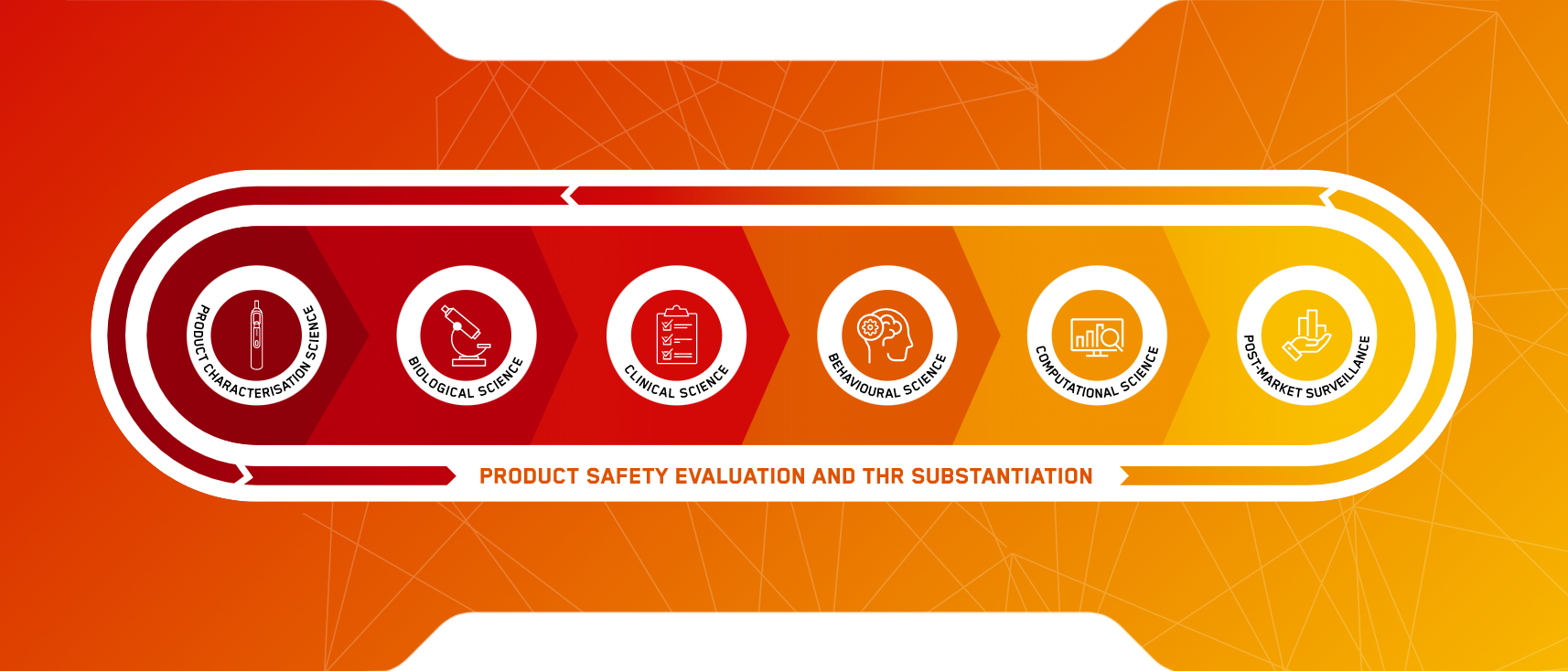 You are free to share this content with credit to Imperial Brands under a Creative Commons Attribution-NoDerivatives 4.0 International (CC BY-ND 4.0) license.