//Talking Tobacco Harm Reduction, and a World Beyond Smoke
Posted 21/07/2020 12:00am
---
Strategic Science & Policy Engagement Director Grant O'Connell

introduces our new infographic that explains the important concept of tobacco harm reduction.
After the WHO issued advice to use facemasks to prevent the spread of COVID-19, they've fast become 2020's most sought after harm reduction accessory.
Living through a global pandemic makes close interaction risky. We're not sure who has the virus and who doesn't. Face masks reduce the chances the virus will be exhaled by a carrier and inhaled by another.
As a result, face coverings are now a part of many people's lives across the world.
But does wearing a mask make traveling on public transport or going shopping 100% risk-free?
No − but they do make it less risky.
Like sun cream or s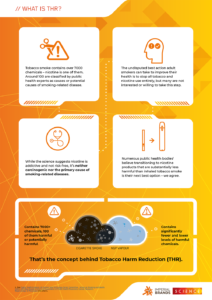 eat belts, facemasks are another everyday example of harm reduction in action.
Tobacco Harm Reduction (THR) works on the same principle. For adult smokers, the greatest risk stems from burning tobacco and inhaling the smoke – it's the most harmful way to consume nicotine – and is a cause of serious disease and preventable deaths.
Positive changes
The best course of action adult smokers can take to improve their health is not to use any tobacco or nicotine product. However, millions of adult smokers are either uninterested or unwilling to take this step.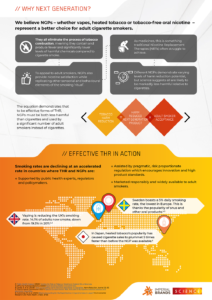 So proactively transitioning adult smokers to other nicotine-containing products – which are likely to be substantially less harmful than smoked tobacco – is the next best option and the basis of THR.
Next Generation Products (NGPs) including vapes, heated tobacco and tobacco-free oral nicotine pouches are harm-reducing innovations specifically developed for adult smokers which deliver nicotine without tobacco combustion.
By decoupling nicotine from cigarette smoke, these new products contain and produce fewer and significantly lower levels of harmful chemicals compared to cigarettes. This makes them a potentially less harmful alternative for adult smokers who would otherwise continue to smoke.
Does this mean NGPs are 'risk free'? No – they're not completely-risk free, and do contain nicotine which is an addictive substance, but the scientific evidence to date suggests they may be significantly less harmful compared to cigarettes.
Plentiful options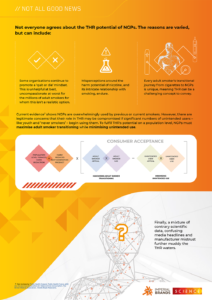 Many public health agencies believe NGPs could make a significant contribution to global public health through harm reduction – and we agree.
In fact, the evidence suggests NGPs are more effective at transitioning adult smokers from cigarettes than traditional nicotine replacement therapies like patches because they better replicate the sensorial and behavioural elements of the smoking 'ritual', alongside delivering satisfying levels of nicotine.
However, despite its clear potential benefits to public health, not everyone is convinced by THR. Due to its intrinsic (and negative) link with tobacco smoke, many still mistakenly believe nicotine is among the primary causes of smoking related disease.
Factor in legitimate concerns of potential uptake by young people or non-smokers, lingering manufacturer mistrust and contradictory media headlines and – unsurprisingly – many people remain confused and/or conflicted about THR.

To ensure THR succeeds and makes a positive public health impact, NGPs should be advocated by, health bodies, media and regulators alike, especially around the fact that they are:
Likely to be significantly less harmful than smoking as the science continues to demonstrate.
Only for adult smokers who would otherwise continue to smoke. The maximum potential of THR is diminished if used by vulnerable populations.
Our infographic explains the principle of THR and promising public health potential of nicotine-containing NGPs.
Click here to download a pdf or explore more about THR through our science manifesto Beyond Smoke.
You are free to share this content with credit to Imperial Brands under a Attribution-NoDerivatives 4.0 International (CC BY-ND 4.0) license.